Explore the Standout Three-Row SUV at Wynn Volvo Cars Norristown
Sport-utility vehicles are everywhere in Norristown, PA today. These large automobiles are generally seen as a form of truck, but they possess sedan-like features. This is where the 2020 Volvo XC90 comes into the frame. This amazing SUV is luxurious with its fine craftmanship and high-end engine components. The new XC90 has changed the automotive landscape of what a contemporary SUV should be, and that is why the Wynn Volvo Cars Norristown sales team is pleased to introduce King of Prussia drivers to this exceptional automobile.
Volvo XC90 Performance
The 2020 Volvo XC90 is primed for your daily driving activities. This SUV has one of the best drivetrains in its class. This drivetrain just so happens to be a plug-in-hybrid. Low emissions, fuel efficiency, and power is what this drivetrain will deliver. The XC90 is equipped with Volvo's T8 engine, which produces a staggering 410 horsepower for your Pottstown adventures. Not to forget, but the T8 is also twin turbo. For better on-demand power, the Volvo SUV's electric motor will kick in by delivering up to 40 km of electric power. The new XC90 is also paired with an eight-speed automatic transmission for quick and swift gear shifts. This particular engine also utilizes an Advanced Kinetic Energy braking system for storing and delivering power.
Design Features of the New XC90
The XC90 is Scandinavian art at its finest thanks to the vehicle's impressive exterior characteristics. This SUV is flawless from end-to-end with its striking body lines and accented features. One of the very best exterior features of this façade are the "Thor-Hammer" headlamps. These illuminating headlamps are well-designed as they provide a nice frame for the front grille. The front grille retains its classic Volvo look, and the fog lights appear to be built into the front fascia with precision. Every angle of this vehicle looks amazing on the streets of Collegeville. The rear of the XC90 sports some of the most dynamic LEDs to date. These particular LEDs are asymmetrical in design, but they possess a more vertical shape. Consumers can also choose from a number of wheel designs and wheel sizes to complete the overall look.


Interior Amenities of the Volvo SUV
First things first, the 2020 Volvo XC90 sports one of the most masterful interiors. Swedish luxury can be seen throughout the cabin from the leather-appointed seats to the woodgrain accents, which makes this amazing cabin so luxurious. Taller individuals will have plenty of legroom thanks to the SUV's interior layout. Up to seven individuals can sit quite well as you travel throughout Conshohocken, PA. Behind the third-row seats, you'll have access to an estimated 16.2 cubic-feet of space. There's also a six-seat configuration in the cabin. When the rear seats are folded down, then you'll have access to 42 cubic feet of space. The interior also hosts metal and crystal features.
Keeping Things Secure
At its core, the XC90 is a Volvo. That means you can trust that it's loaded with the standard safety features you want in your next SUV, such as a rearview camera, following distance indicator, forward collision alert, pedestrian detection, rear cross traffic alert, and blind spot monitoring. Available options include a head-up display, front parking sensors, and a surround-view parking camera to show you your Conshohocken PA surroundings.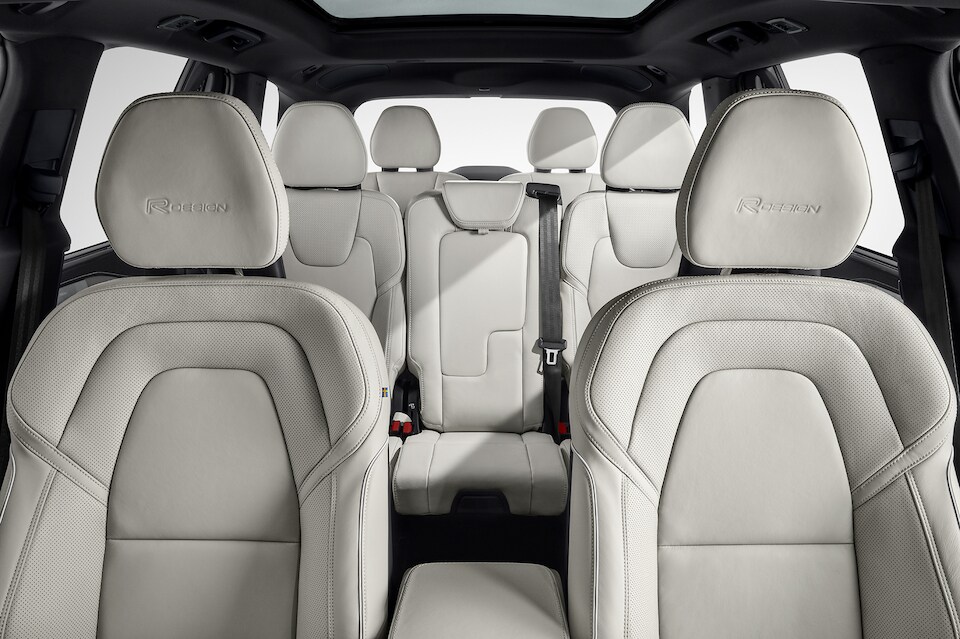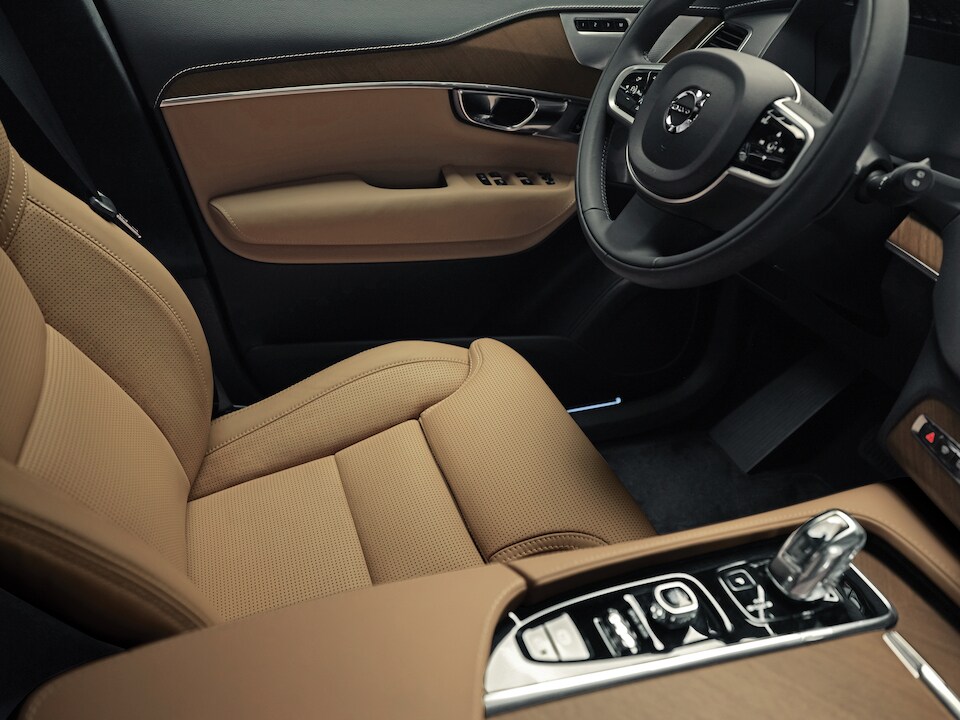 Modern Technology Equipment
The XC90 has a beautifully crafted touchscreen display that sits in the center dash. This magnificent display is powered by Sensus technology, and its graphics are among some of the best in the business. This intuitive touchscreen can effortlessly scroll through your apps as well as activate the vehicle's navigation system. In-car apps include Pandora, TuneIn, Spotify and many more. Smartphone users can effortlessly connect to the SUV via Android Auto or Apple CarPlay. In addition to that, there's a dynamic digital-cluster display that provides you with a ton of vehicle-related information.
Volvo XC90 Includes Variety of Safety Features
Volvo takes safety and security to the next level. The SUV's platform was built from high-strength materials like boron steel. From airbags to crumple zones, you and your passengers will be surrounded with protection. Volvo utilizes its own safety platform, which is a suite of innovations. This is known as City Safety technology, and it comes equipped with features like Front-Collision Avoidance and automatic braking. In addition to that, the 2020 XC90 will use radar sensors to detect large animals, pedestrians and other objects that are on or near the highway.


Here Are the Three Trim Levels Available With the Volvo XC90
With the Volvo XC90, you will choose the following three trim levels. You can see these and schedule a test drive at Wynn Volvo Cars Norristown.
Volvo XC90 Inscription
This is the trim level for you if you really want to be driving in the lap of luxury. It seems to have just about everything you could desire, and even a few items that you may have never considered before. As you drive around King of Prussia, the Volvo XC90 will allow you to do so in soft Nappa leather seats on both the driver and passenger seats. That is quite amazing. You will also benefit from a visually appealing interior that your eyes simply will not be able to get enough of. This is also capped off by walnut inlays in specific locations throughout the interior. Even the wheels are visually stunning. You will notice that they are 20-inches in diameter and comprised of alloy. They are light grey and have a cut diamond look to them that people across Audubon will love to see. To top everything off, you will love the sun curtains that come down over the rear doors.
Volvo XC90 R-Design
When you look at the R-Design, you will notice that there are quite a few standard features optional on other Volvo XC90 trim levels. This begins with the contour sport seats. They are comprised of a mixture of leather and upholstery. This results in a most comfortable ride for everyone involved. You will also notice that the information display system is 12.3 inches, which is plenty big to visually see everything you need while driving around Collegeville and beyond.
Volvo XC90 Momentum
This might be considered the entry-level trim for the Volvo XC90, but it is anything but basic. The number of standard features is quite amazing. To begin, you will have the benefit of adaptive cruise control. This allows you to enjoy those long drives, even more, knowing that you are much safer due to this feature. There is also a portrait touch-screen system in the center console that is 9-inches. Combine this with a climate control system with two-zones, and you know that everyone inside will be comfortable while cruising around Conshohocken.

 Volvo T6 Momentum
Visit Jim Wynn Volvo Cars & Volkswagen Today!
If you're in Collegeville or Conshohocken PA, make your way to Jim Wynn Volvo Cars & Volkswagen in Norristown, PA to learn more about our available models and current incentives.